Mic Conway Kids Shows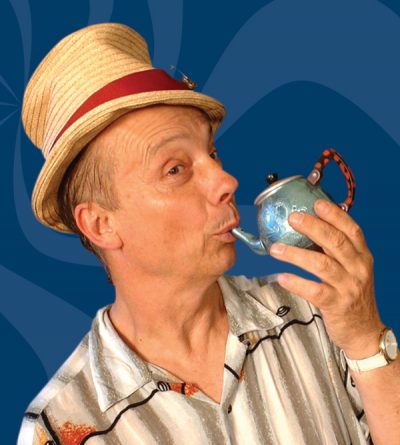 Rubbish
(A Look At the 3Rs – Reduce ReUse and Recycle
A highly original performance using a variety of skills including magic, puppets, tap dancing, circus and song  – Mic Conway makes the message FUN!
Mic demonstrates the magic of recycling with some dazzling tricks and shows the pleasure in reusing "junk "for music and fun, with lots of audience participation.
An educational and entertaining show encouraging children to think of what they can do in their everyday lives to minimise their consumption of resources.
SCHOOLS BOOKINGS: School Performance Tours 0295161613 or 1800221509
Email Bookings: greg@schoolperformancetours.com.au
FESTIVAL & OTHER BOOKINGS: 0431 730 761
Mic Conway Kids Show
Mic Conway is a stunning children's performer whose shows are very popular and always fun. Entertaining and educational, Mic introduces young people to the world of music and theatre, magic and circus, and encourages children to use their imaginations. His differently themed shows inspire children to engage with music, caring for our environment, art and more. Each regularly combine music, magic, juggling, tap-dance, comedy, circus and silliness.  His children's album "Whoopee" (ABC Music) was awarded an ARIA for "Best Children's Album".
Festivals across Australia have invited this much-loved children's entertainer back again and again. He tours his shows to over 200 schools every year, visiting capital cities and regional centres all over the country. His shows are aimed at children of various ages from pre-schoolers to high school students.
Mic has appeared on many children's films and television shows, including Saturday Disney, Here's Humprey and ABC for Kids. He appears alongside The Wiggles in their TV shows, on DVDs and in the Wiggles Movie. He was also the voice of Wags the Dog.
In his own DVD, "How To Make Music with Anything", Mic demonstrates how to make and play musical instruments from things you find around the house.
Shows include:
The Shape of Things to Count
Magic Mic Show
BOOKINGS: School Performance Tours 0295161613 or 1800221509
FESTIVAL & OTHER BOOKINGS: 0431 730 761
Email Bookings: greg@schoolperformancetours.com.au