Mic Conway and the
National Junk Band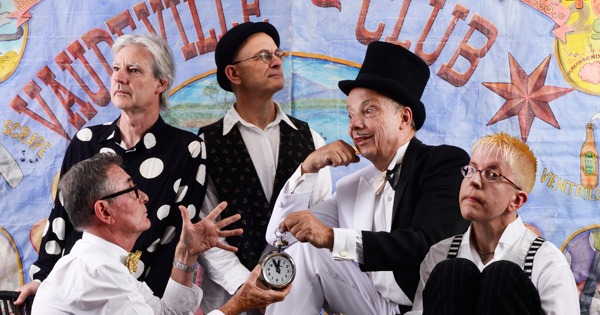 Mic Conway's National Junk Band
Jug band blues, political satire and lunatic on-stage antics combine as a new-vaudevillian comedy cabaret. Audiences know Mic Conway's tongue-in-cheek style from "Captain Matchbox Whoopee Band" and "Circus Oz". From Byron Bay Bluesfest to Port Fairy and Adelaide Cabaret Festival… the National Junk Band have become festival favourites for their unique collision of fire, illusion, passion, irreverent satire, magic, singing saws, flying chooks, musical mayhem and some very funny songs.
Expect the unexpected as these "virtuosos of the bizarre" create a live stage experience that must be seen and heard to be believed. Wielding National guitars, ukuleles, a sousaphone, a phono-fiddle, actual garbage cans and metal sinks, there really is nothing like them in Australia today.
MIC CONWAY : Vocals, tenor guitar, musical saw, harmonica, ukulele, silly noises, tap-dancing, fire-eating, juggling, magic.
CAZZBO JOHNS : Sousaphone, electric bass, jug.
PHIL DONNISON : National guitars and ukuleles, lap steel, nose flute, kazoo, vocals.
MARCUS HOLDEN : Stroviol, mandolin, tenor guitar.
JEREMY COOK : Drums, washboard, garbage bin and junk percussion. 
"The king of Vaudeville in Australia today." : Lucky Oceans
"Aural extravaganza." : Michael Smith, Drum Media
"Defies categorisation." : Sydney Morning Herald.
"Smile-inducing syncopated satire… amusing confection of vaudeville-inspired madness." 4 stars :  The Australian.
BOOKINGS: 0431 730 761
Darwin's Evolutionary Steeplechase
Diagonally Parked in a Parallel Universe